Sale of a portfolio of six wind farms in France to BKW
Mirova, an affiliate of Natixis Investment Managers focused on sustainable investments, and RIVE Private Investment, subsidiary of Elyseum Group specialized in real assets, have sold to BKW six operating onshore wind farms in northern France for a total installed capacity of 105.7 megawatts (MW). The wind farms were constructed under the ownership of Mirova and RIVE Private Investment. With this acquisition, BKW has increased its 700MW of renewable energy facilities portfolio by 15% and expands its presence in one of its core markets.
The wind farms were constructed under the ownership of Mirova and RIVE Private Investment and entered in operation between September 2018 and August 2021. Overall, they provide about 250 GWh of green electricity to the grid each year. The assets, split across two portfolios, were sold by French companies Mirova via its funds Mirova Eurofideme 3 and Mirova Eurofideme 4, and RIVE Private Investment, a specialist investor in real assets.
BKW is aiming to increase its portfolio of new renewable energies to more than one gigawatt (GW) by 2026, thus making a further contribution to a sustainable energy future. It announced this goal at the Capital Markets Day at the end of October 2021. It is focusing on wind power and solar installations in its core markets of Germany, France, Italy, Spain, Portugal, Norway and Sweden.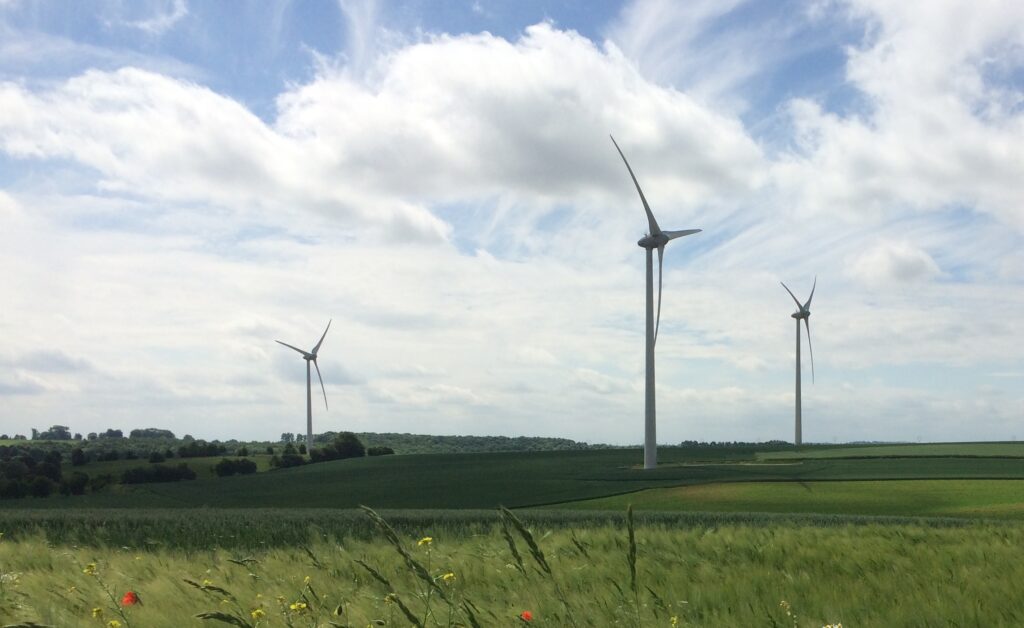 Céline Lauverjat, Deputy Head of Mirova's Energy Transition Infrastructure Funds, says: "After the sale of our Croatian wind portfolio that occurred in December 2021, the sale of this large wind portfolio in North of France, acquired on a greenfield basis, is a key milestone for our fund Mirova-Eurofideme 3. Launched in 2014, the 353m€ third vintage fund was totally invested in 2018 in greenfield renewables assets in Western & Northern Europe and is now under its divestment period. We are proud to have built and operated more than 100MW renewable capacities that will now continue for years, under the care of BKW, to produce green electricity and participate to the achievement of the French Energy Transition targets".
Pierre du Passage, Partner at RIVE Private Investment: "We are delighted to have supported the construction of first grade renewable assets in the Somme region. In partnership with Mirova, our involvement has contributed to support achievement of climate change targets and boosted the local economies, consistent with RIVE Private Investment's sustainability convictions. This project successfully demonstrates our strategy of actively managing high quality sustainable infrastructure assets and delivering superior returns to our investors".
Margarita Aleksieva, the Head of BKW's the Wind & Solar Business Division, says: "With the purchase of six wind farms in the Somme region of northern France, BKW has taken a major step toward achieving its aims through targeted impact investments in the attractive area of wind power. The acquisition will enable synergies with current BKW activities in the area of wind energy in France. Following the acquisition, it will own a portfolio of 11 wind farms with around 170MW of installed capacity in France."
Press Contact
Good Paper – Caroline Babouillard – cbabouillard@good-paper.com – 06 18 73 45 73.
About Mirova
Mirova is a management company dedicated to sustainable investment and an affiliate of Natixis Investment Managers. Through conviction management, Mirova's goal is to combine long-term value creation and sustainable development. Pioneers in many areas of sustainable finance, Mirova's talents aim to continue innovating in order to offer their clients solutions with high environmental and social impact. Mirova and its affiliates manage 28.6 billion euros as of December 31, 2021, in which more than 2 billion euros is invested in the energy transition infrastructure sector. Mirova is a mission-driven company, labelled B Corp.
Portfolio Management Company – Anonymous Company
RCS Paris No.394 648 216 – AMF Accreditation No. GP 02-014
59, Avenue Pierre Mendes France – 75013 – Paris
Mirova is an affiliate of Natixis Investment Managers.
> Website: www.mirova.com
> Follow Mirova on LinkedIn and Twitter
About Natixis Investment Managers
Natixis Investment Managers' multi-affiliate approach connects clients to the independent thinking and focused expertise of more than 20 active managers. Ranked among the world's largest asset managers with more than $1.4 trillion assets under management (€1,182.5 billion), Natixis Investment Managers delivers a diverse range of solutions across asset classes, styles, and vehicles. The firm is dedicated to advancing sustainable finance and developing innovative Environmental, Social, and Governance (ESG) products. Natixis Investment Managers consults and partners with its clients and offers insight on markets and assumptions to better align strategies with long-term goals.
Headquartered in Paris and Boston, Natixis Investment Managers is wholly-owned by Natixis. Natixis is a subsidiary of BPCE, the second-largest banking group in France. Natixis Investment Managers' affiliated investment management firms include AEW; Alliance Entreprendre; AlphaSimplex Group; DNCA Investments; Dorval Asset Management; Flexstone Partners; Gateway Investment Advisers; Harris Associates; Investors Mutual Limited; Loomis, Sayles & Company; Mirova; MV Credit; Naxicap Partners; Ossiam; Ostrum Asset Management; Seeyond; Seventure Partners; Thematics Asset Management; Vauban Infrastructure Partners; Vaughan Nelson Investment Management; and WCM Investment Management. Additionally, investment solutions are offered through Natixis Investment Managers Solutions and Natixis Advisors, LLC. Not all offerings available in all jurisdictions. For additional information, please visit Natixis Investment Managers' website at im.natixis.com | LinkedIn: linkedin.com/company/natixis-investment-managers.
Natixis Investment Managers' distribution and service groups include Natixis Distribution, LLC, a limited purpose broker-dealer and the distributor of various U.S. registered investment companies for which advisory services are provided by affiliated firms of Natixis Investment Managers, Natixis Investment Managers S.A. (Luxembourg), Natixis Investment Managers International (France), and their affiliated distribution and service entities in Europe and Asia.
About RIVE Private Investment
Founded in 2013, Rive Private Investment is an independent investment group specializing in sustainable infrastructure and tangible assets (medical and security aviation, rail, industrial equipment, etc.). The team is made up of 20 investment specialists, who have already invested more than 2 billion euros through nearly 100 transactions. The company has a pan-European presence, through these four offices: Paris, Geneva, Luxemburg and Hamburg.
About BKW
The BKW Group is a Bern-based international energy and infrastructure company. It employs approximately 11,000 people. Its company network and innovative technologies allow it to offer its customers a full range of skills in the areas of infrastructure, buildings and energy. The Group plans, builds and operates infrastructure to produce and supply energy to businesses, households and the public sector, and offers digital business models for renewable energies. Today, the BKW Group portfolio comprises everything from engineering consultancy and planning for energy, infrastructure and environmental projects to integrated offers in the field of building technology and the construction, servicing and maintenance of energy, telecommunications, transport and water networks. The registered shares of BKW AG are listed on the SIX Swiss Exchange.